Travelling for work gave my wife and I a chance to visit area of the world I have always wanted to visit, Bay of Fundy…
In my research, I found what looked like an idea spot, Scot's Bay. It is on a piece of land that juts out into the Bay of Fundy on the north western coastline of Nova Scotia.
References:
My wife and I flew from Cleveland via Toronto to Moncton, New Brunswick. New Brunswick and Nova Scotia part of the Atlantic provinces in Canada with very scenic landscape even along the main highways. Flying time from CLE to Moncton was ~3.5 hrs. Travel time from Moncton to Scot's Bay was ~3.5 hrs.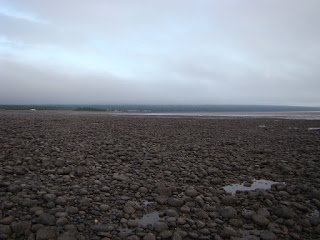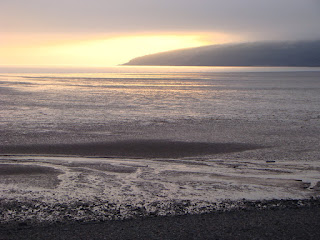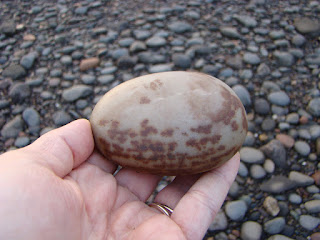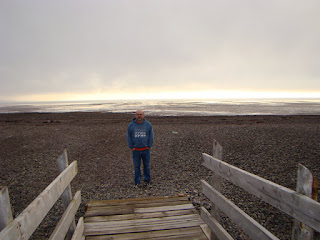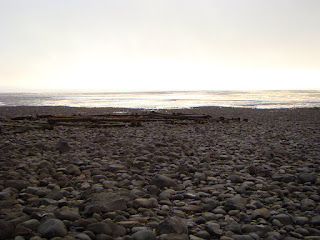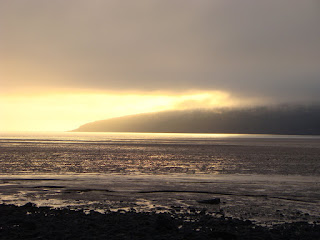 The beach area is large more than a mile across and is covered in nothing but gravel and cobbles. Even though is was still cold ~55'F in the 3rd week of June, it was still very enjoyable to comb the beach seeing the great varieties of rock types reflecting the local geology as well as the rocks brought in by the powerful tides in the bay. Below, is a geological map of Nova Scotia list gold deposits. Bay of Fundy coastline along western Nova Scotia is composed of Triassic-Jurassic age basaltic rocks. The basaltic rocks are the local source for amethyst, agate ans zeolites that can be found along the beach.
On the tides in the Bay of Fundy, the area experiences the highest tide differential on earth. Tides top out at 50 feet above low tide twice a day!. This is the result of moon's actions on the earth's oceans as well as the funnel shape geometry of the bay.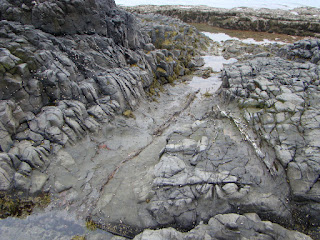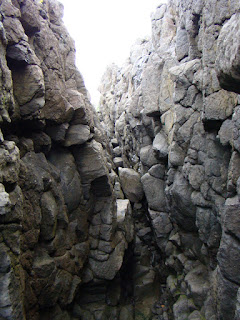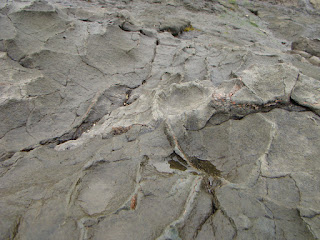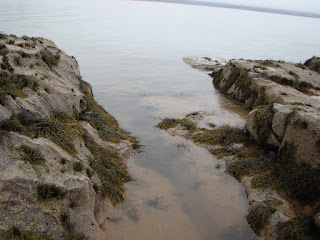 When we first arrived at the beach, it was about 1 after high tide, so the water did appear to be receding. We collected for about 1.5 hr before stopping for dinner. After dinner, we drove out to the trail head to Cape Split (which was unfortunately a 4-5 hr round trip) but as we parked, we saw something amazing. The water had retreated nearly 25 feet vertically and exposed an amazing basaltic landscape that spends most of the day underwater. We spent until sunset wandering over the basalt outcrops! As a geologist, truly one of the more unusual spots I have visited.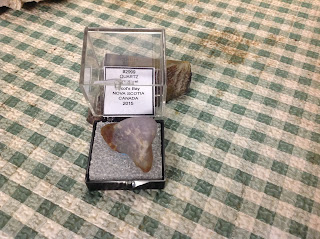 We did find a piece of the elusive Bay of Fundy amethyst more agate but definitely purple in color.
Also found a nice large piece of banded agate similar looks to Brazilian agate I've seen.
We could only take a few pounds of the best material we collected since we were travelling by air but the link below is a rock photo collection from Scot's bay.
I would recommend this location to anyone who enjoys rock and mineral collecting or just beach combing in general. I would love to visit this area again.